You make the Jersey Shore memories.
We'll deliver the Paddleboards.
When you rent a vacation home on the Jersey Shore, it's because relaxing, reconnecting and showing everyone a fun time is important to you. Planning family activities and accommodating everyone's needs can get complicated when you have a variety of ages and interests. Standup paddleboarding (SUP) is something everybody can enjoy.
Sea Glass Paddleboards offers full day, weekend and weekly paddleboard rentals conveniently delivered and picked-up right to your door. Rentals come complete with new boards, paddles, life vests, whistle, dry bags and even a complete soft rack for your vehicle.
The real summer magic happens when you have flexibility and convenience in your day, and when you are not pressured into getting your family to a locked-in, non-refundable reservation on time. Having full access to your own SUP boards for the day or for the entire week, eliminates that hassle allowing you to paddle out whenever and where ever you choose. We make it easy to see new things, explore new places and create lasting memories.
There is so much to explore on the Jersey Shore. Get our Free Guide to NJ Shore Paddling locations - featuring location maps, tips of where to drop in, parking, fees and highlights of each paddle spots. Are you a Jersey Shore local? It's time to rediscover the shore from a paddleboard.
Families love paddleboarding because it's easy to learn for all skill levels. Beginners and younger kids are up and paddling in minutes. And, our boards are long and wide enough for little ones to ride along comfortably - you can even bring your dog!
Your summer vacation is about to be filled with paddling on our bays, inlets and beaches, long days in the sand, boardwalk fun, outlet shopping, …and of course buckets full of ice cream! Looking for places to explore? Get our free guide to NJ Shore paddling locations, most are family friendly and ideal for beginner paddlers.
Explore the Shore with Your Rental Boards
We offer full day, 2-day and full week rentals so you can explore the shore without being restricted to someone else's time schedule.
Our paddleboards are stable, buoyant and easy to paddle. We chose boards designed for recreational, touring, surfing, yoga and fishing. We even provide a soft top car kit – so you can take your rentals with you on day trips or to local drop in spots. Go for an epic adventure or just a lazy, last minute paddle. Paddle, float, relax or jump in!
The Jersey Shore offers amazing options for calm, easy to paddle water. Put them in the Belmar Bay, Manasquan inlets, Loch Arbour. Need some suggestions for where to drop in, plan your paddle with our Free Guide
Relax! It's your summer vacation. Smart online ordering is quick and easy right from your smartphone.
Our Yolo Hammerhead XT stand up paddleboards are perfect for beginner and intermediate paddlers. Boards are 11' long x 32" wide and weigh 31lbs.
2019 Rental Rates
We deliver all the equipment you need, right to your vacation home rental, or favorite beach for daily and multi-day rentals. If you are renting a home for the week – consider our weekly rental option. Enjoy the convenience of paddling out when the mood strikes, time permits, or the perfect conditions appear.
Includes everything you need board, paddle, life vest, leash, whistle, dry bag, a soft top car carrier and instructions for safely strapping up to 2 boards onto your vehicle. Free delivery to your vacation rental or beach access with parking.
DELIVERY AND PICK UP SCHEDULE
Deliveries between 8am – 10am
Pick-ups between 6pm – 8pm
DELIVERY AREA
Includes Long Branch, Deal, Loch Arbour, Allenhurst, Asbury Park, Ocean Grove, Bradley Beach, Avon, Belmar, Spring Lake, Lake Como, Sea Girt, Manasquan, Brielle, Point Pleasant, Bayhead.
Email for areas outside of those listed. hello@seaglasspaddleboards.com
CANCELLATION POLICY
Your credit card will be charged in full at time of booking.

Cancellations within 7 days of reservation receive a full refund.

Cancellations within 3 days of reservation receive a 50% refund.
RESCHEDULING
Cancellations of daily rentals due to unsafe weather conditions can be rescheduled.
Are you visiting Monmouth or Ocean County, New Jersey this summer? Have you already booked your vacation home at the shore? Get some boards and sneak out for a quick sunrise paddle when the water is as smooth as glass and before the rest of your family wakes up. Or take your board to the beach and give standup paddle surfing a try. Get your free guide for great paddling locations on the Shore.
Paddling has also inspired us to become active citizens of our ocean and waterways, which is why we have decided to donate a portion of our revenues to organizations like 4Ocean and the Jersey Shore Surfrider Foundation. These organizations are committed to working to clean and protect our oceans and beaches, and we are proud to support their efforts as a small business and an ocean family.
Three seasons ago we discovered paddleboarding for our family and we instantly loved it. We were excited to find something we could all enjoy together.
Soon, stand up paddleboarding became our go-to activity when friends came to visit our shore house, when we needed a reprieve from a day on the sand or just wanted to switch things up.
While we love nature and the outdoors, we would hardly consider ourselves to be a family of outdoor, adrenaline pumping adventurer seekers. That's why paddleboarding is so appealing to all of us. We have school age children and their safety, comfort and confidence on the water remains a high priority for our family.
Paddleboarding has become a watersport that we actively seek out when we travel, because we know that it will deliver smiles and memories as we explore new waterways, lazily float on the water or expend some energy for a low impact cardio workout.
On our SUP adventures, we have seen dolphins, manatees, eagles, egrets, herons, horseshoe crabs, cormorants and all sorts of other marine and birdlife.
We decided to bring weekly paddleboard rentals to the Jersey Shore when we realized how much more we enjoy the sport when we can be spontaneous and paddle when and where we choose – with no schedule or time constraints of hourly rentals and tours.
Rent our boards for a week during your Jersey Shore summer vacation and enjoy full access with the hassle of maintenance and off-season storage.
Sea you on the water!
Gina and Toby Daschbach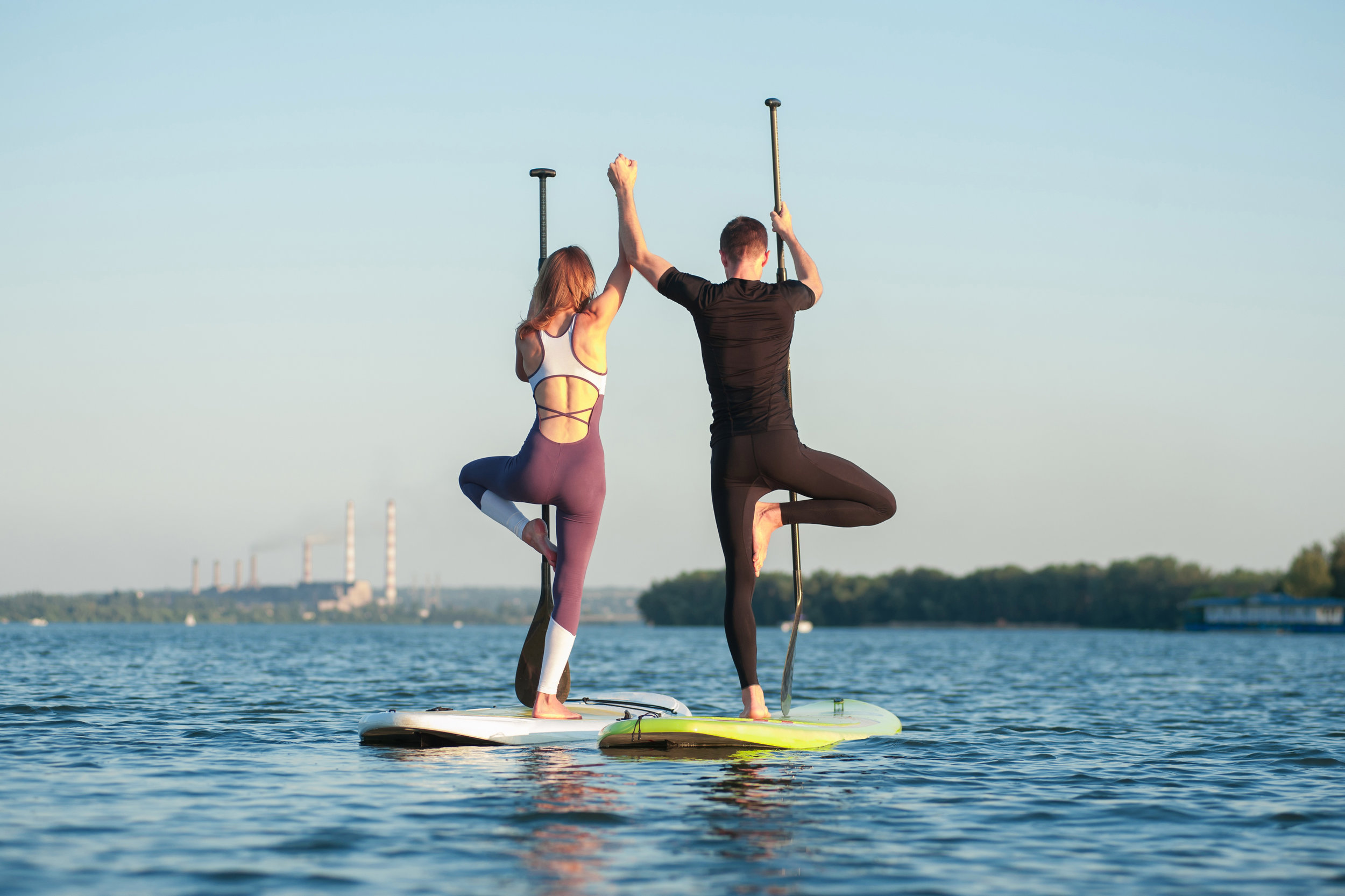 How easy is it to learn paddleboarding? Stand up Paddleboarding also called SUPing, is one of the fastest growing recreational watersports because almost anyone can do it. Search YouTube for tons of videos with easy tips and techniques for beginners from what to wear, how to paddle and how to stay on the board. Of course, there are even videos for how to get back on the board, in case you fall in
Do I need to know how to swim? Yes! You must know how to swim and be fit enough to get from a hands and knees position to a standing position.
What should I know about paddling with kids? You will know your own child best, in our own family, our daughter felt more comfortable on her own board at around 10 years old on flat water - every year she gets stronger and more confident. Our son at 8 years old still shares a board with us and gets a chance to practice with one of us on board. Children should always wear life vests and know how to swim. If you want to ride with your child (or your dog) on board, you will want to feel confident with your own balance on the board.
What should I wear/bring paddleboarding?
Sun Protection

Hat

Croakie-style sunglass holders

Water proof, floating phone case and bag (optional)

Reusable Water bottle
Are life vests required? Paddlers under the age of 12 are required by law to wear a life vest (PFD). Over the age of 12, all paddleboards must have a PFD on board.
What is the best time to paddle out? In general, mornings offer the flattest, beginner-friendly water in the Atlantic Ocean. Afternoon winds are known to create more challenging conditions for stand up paddling. (Tip: To negotiate rough, choppy water, longer stroke with a deeper catch is essential. Bend your knees, dig in, engage your core and paddle hard. Good luck.)
How can I check paddling conditions? It's important to check wind, tide and temperature when before you hit the water. Here's one great resource to check out before your head out. https://tidesandcurrents.noaa.gov/ Find the NOAA Hi-Def Radar app for weather conditions and there is also an add-on for tide charts and tables.
Do you offer weather related refunds? We do not offer you refunds due to weather conditions. However, we would be delighted to reschedule you for another date. Obviously, paddle conditions are hard to predict – which is precisely the reason our clients love the weekly SUP rental option. When those glassy, calm conditions present themselves, grab your board and go!
What time does my rental begin and end? Rental drop-off 8am –10am. Rental pick up 6pm – 8pm